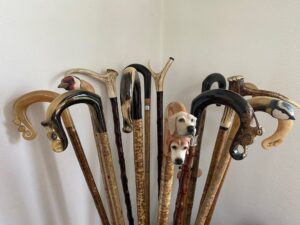 One of my favourite pastimes is to collect handmade crooks and sticks, In 2007 I was at the Galloway game fair in Scotland and I was just walking around the displays and came across a tent that was housing a stick competition. So I ventured inside to take a look as this particular craft had always fascinated me but being the worst at anything particularly practical I was looking for something to buy.
I had been to many CLA gamefairs and seen stick display's before but what I saw in this tent blew me away, the quality and detail was amazing and as I looked through the great selection of different sticks I realized many had red 1st prize labels attached. I was standing as you normally do at these affairs next to another person who was also looking at them and we exchanged a few words and it turned out to be the owner/maker of all of the sticks with red labels on. Well after many years and many beers and a few good dinners Dennis and Linda Wall have become very good friends and we have spent many great times together chatting and talking about their particular craft.
I have visited their home and workshop several times and they have also relieved me of a lot of money over these years supplying me with some of their fantastic products.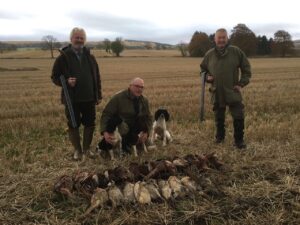 I first met Iain and Debbie Barnes through meeting a Dutch spaniel judge at a game fair in the Netherlands, this was in 2014 and because of the fact that they are originally from Scotland and a very professional couple who run their breeding and training business with like minded principles we have become very good friends as well as clients, working with them is a joy and we have also been on hunting trips back to Scotland on several occasions and have had the most amazing times. Iain and Debbie Barnes are true professionals and have and are producing quality spaniels from great breeding lines and are particular about health testing in all of their dogs. They offer group and individual training for any breeds of hunting dogs and can back that up with trained or part trained dogs produced to a very high standard which is hard to beat
www.pettransportservices.co.uk
Since being based in the Netherlands for some of the time we have since the pandemic had to rely on a professional pet courier services to get some of our clients dogs back to the United Kingdom, We have used Pettransport services based in Kent, they are reliable, efficient and a great team to work with and they keep you updated regularly as to progress en -route
Spencer Bridge and his brother head up this group and I cannot recommend them highly enough, they travel all over Europe as well as the UK and run a great service!
When I lived in Northern Ireland from 2006-2012 I had been traveling all over not only the North but also the Republic and had done for many years. I had been on a visit to meet some friends in Castleblayney Co Monaghan and whilst in the town I called into a shop selling Irish linen and hand made scarves. I wanted a present for my good friends wife in Tennessee and I met Liz Christy and she sold me a fabulous scarf.
Since that time I have purchased some lovely items from Liz's collection and they are superbly made and so alive and colourful, I would recommend if you want some real quality Irish hand made items get in touch with Liz..